THE NEW BIG DATA ARCHITECTURE
Big Data Accelerator
Big Data Accelerator is an intelligent data storage solution for unlimited data volumes that, due to the groundbreaking, innovative logic of its algorithm, cannot be surpassed in speed with simultaneous savings in resources such as additional processors, main memory capacity and other hardware in comparison to other common solutions.
Save up to ...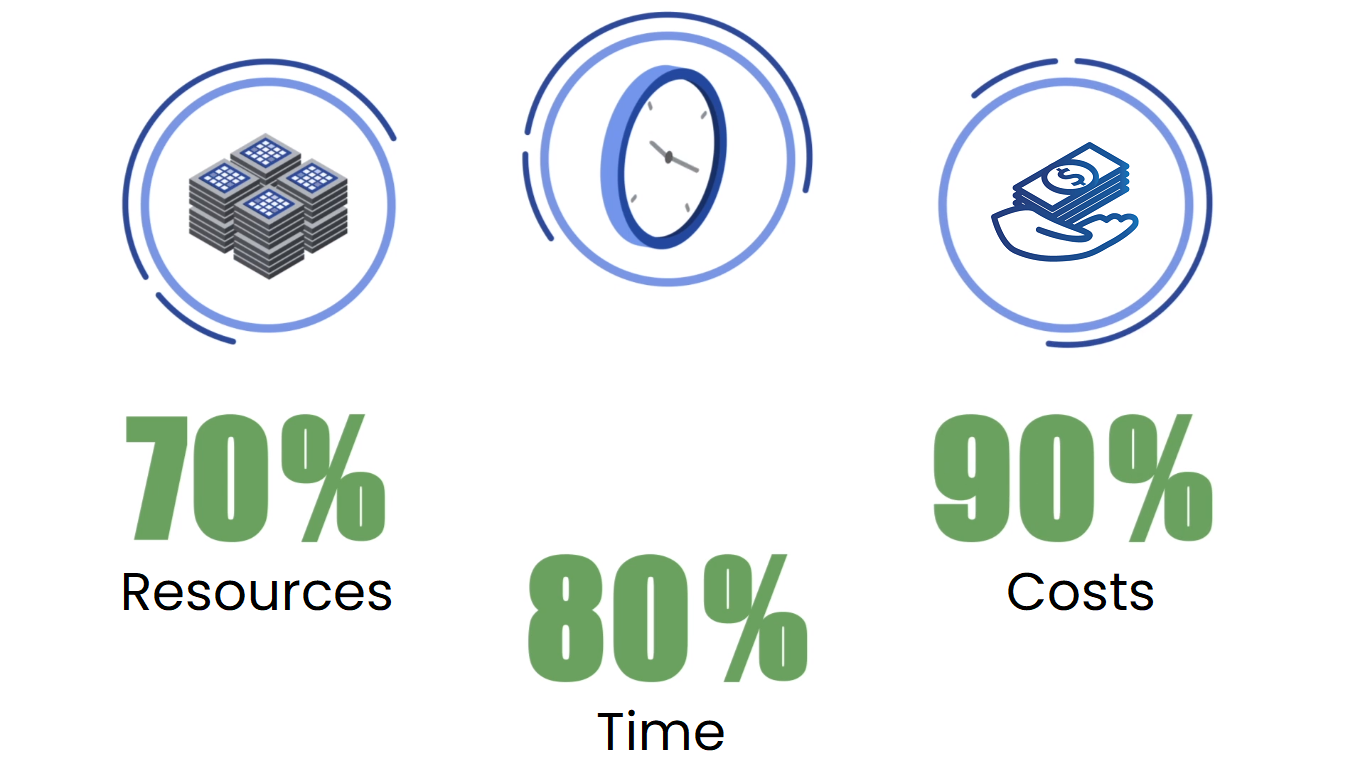 Click ► to play the video
Big Data Accelerating Service
Secure your competitive edge and information advantage now with the unmatched search speed of Big Data Accelerating Service in the cloud!
Resources
Saving resources by using less hardware / processors.
Time savings
When using Big Data Accelerator, you can save up to 80% in time.
Cost savings
When using Big Data Accelerator, you can save up to 90% in costs.
Data is the new oil.
Competitiveness increases with the amount and diversity of information gathered in immense quantities from various sources. In almost all areas such as
Product development and production
Distribution and logistics
Marketing and sales
Finance and insurance
Healthcare
Science and Research
Human Resources
it is imperative to make fast and qualified analysis and decisions based on as broad a data base as possible.
Big Data Accelerator + TextualETL™ = The Perfect Combination
Big Data Accelerator delivers much faster results while requiring fewer hardware resources. By requiring less hardware, Big Data Accelerator helps reduce ongoing operational costs and sustainability.
TextualETL ™ from FOREST RIM® reads, integrates and prepares unstructured data ready for standard technologies such as Oracle, DB2, Teradata and NT SQL Server. Once the unstructured data resides in one of these technologies, standard analytics tools such as Business Objects, Cognos, MicroStrategy, SAS, Tableau, and other analytics and BI visualization technologies can be used to access, analyze, and display your unstructured data.
These new applications can display and retrieve textual data and address and highlight fundamental business challenges that were not previously realized.
Big Data Accelerating Service
How to turn your valuable company data into facts.
License acquisition
You acquire a demo from us, or a license for which a fee is charged.
Authentication
Select the desired authentication method such as OAuth, Google, Facebook, etc.
Access data
After completing the authentication procedure, the access data will be sent.
Login
Subsequently, the login is carried out on the application page.
File upload
The upload of the data files takes place.
Data validation
After the upload we validate the data including the selection of an optimal algorithm.
Data preparation
Preparation of the data according to the selected algorithm.
Retrieval of the data
You can retrieve your data via a desired method such as OData, REST service or via an individually developed interface.
Interested? - Take a look at our solutions.